A time trial is rarely an easy affair and the weather proved to make this as difficult as possible for a mid-week race against the clock.
Blanketed beneath torrential rain, the evening did not begin auspiciously for Blackzone Coaching athlete Murray Lawson, tackling the Edinburgh Road Club 10 Mile Time Trial in far from ideal conditions. Reduced to a manageable drizzle ahead of the race start, it was clear that the dedication of the club 10 scene and the craving for competition was not going to be stopped by a little moisture in the air.
Murray set off in his time trial amidst the rain, though it did little to cool his performance, crossing the line with an impressive time of 20'57" to secure the win. A fantastic result for a talented youngster, who still has plenty of potential to take him even faster still; congratulations Murray.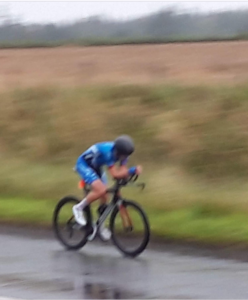 If you are eager to sharpen up on your time trialling skills after lockdown or simply want the assistance of a tailored training plan and advice from a professional coach to make the most of your time in the saddle, get in touch with Blackzone Coaching and we can help you achieve whatever your goal on two wheels might be.