Power meters have been around for many years in cycling, but their use in running is much less explored by the majority of athletes and one of interest to us at Blackzone Coaching as running power meters continue to become more prevalent.
Simply put, a Running Power Meter is a device worn by a runner that objectively measures their power output, how much work is being done and how fast it's being completed, measured in Watts.
What the Coach Says
Head coach Kevin Henderson commented on running power meters and their use in training and racing: "With the advent of the power meter for running, we now have a tool to measure athletic performance directly, objectively and with precise repeatability. We can measure the athlete's power output not only throughout the days and weeks of training, but also during competition. This allows us to plan for the specific demands of each event and to capitalise on the athlete's specific strengths."
The power meter is easily the most powerful tool we've ever had to analyse form, fitness and potential across both cycling and now running. When used correctly, it will make you a better, faster athlete – allowing more accurate targeting of both strengths and weaknesses for overall performance improvement.
How power is measured varies depending on which device you're using, with many leading brands now offering a range of meters. A few of these include:
Stryd
U.S. tech company Stryd has developed a smart shoe-based power meter weighing just 8-grams, using 'precision motion-capture technology' to understand your running. The device accounts for speed, slope, run form, fatigue, and wind to accurately measure power output and deliver results with, as they claim, laboratory precision.
The 5km Runner put the Stryd device through its paces in 2019 – read how they got on here.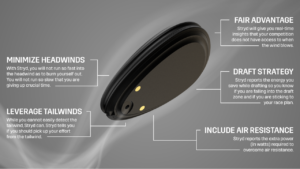 Garmin
A powerhouse in sports tech, Garmin also holds a space in the market with their Garmin Running Power set up. This requires either an HRM-TRI, HRM-RUN, or RD-POD – with any of these three sufficient to measure Vertical Oscillation and Ground Contact Time – and a Garmin Smart Watch. Once paired with the Garmin Running Apps you can measure five metrics, including Average Running Power, Lap Running Power and Current Running Power.
DC Rainmaker reviewed the Garmin set up back in 2017 – read what he thought of it here.
What To Expect
Adding a running power meter into your training, whether you're a runner or a triathlete, will undoubtedly help you improve form, through better understanding of factors including cadence and vertical oscillation (body movement up and down). Another benefit will be to help refine your pacing, thanks to a much better understanding of your threshold levels and therefore having a better gauge of zonal running.
When it comes to working with a coach, a running power meter will allow us to have a much better understanding of your running ability and output, while being able to further tailor and fine tune training sessions to help you get faster and to become a better runner.
A running power meter is definitely a bonus rather than a requirement for when looking at a personalised coaching plan with Blackzone Coaching, but is definitely something we'd recommend looking into if you're looking to continue improving your running.
If you're interested in finding out more about how to begin training with a power meter under the guidance of Blackzone Coaching, simply get in touch today and begin discussing how to get the most from your time.