Reflections on an Incredible 980 mile journey
It was strange and slightly ironic that in one of the worst years of my life I decided to do something so fantastic. Signing up for LEJOG last minute was a bit of a defiant decision borne out of the sheer frustration of not being able to complete my Ironman race in Copenhagen and having all other racing options removed from my life by the wretched Coronavirus. I had no idea how important racing was to me before it all got taken away. I am deeply competitive, mainly with myself but I think most triathletes will recognise the frustration with not being able to bring months of training to fruition with a well-executed performance on race day. I am a teacher and the removal of normal working practices also deeply depressed me and the realisation that I had enjoyed my job so much and that too was never going to be the same again spurred me on to do something crazy and different!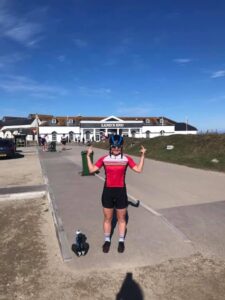 Rolling Out
I started the journey underestimating my strength and although took the first (very hilly) two days incredibly easy was finding each day more manageable as my endurance got better and I became more comfortable on my bike. My legs got to a certain point of tiredness and didn't get any worse and I was then able to push through the fatigue as the excitement of nearing the finish built. By day three members of our group were all firm friends and this helped massively with keeping up morale and supporting each other up if we had had a bad day.
Jammy Weather
Highlights for me include a 30mph tailwind from Penrith to Glasgow resulting in a120 mile journey with an average speed of 20.1 mph. It was an exhilarating, unique ride and I felt quite jammy at the hoard of Strava crowns and trophies I hauled in at the end of the day! We knew a storm was rolling in behind us though and sure enough paid for the incredible ride with the following 3 days of torrential rain and bitter conditions for our ride across Scotland. Although the dreadful weather conditions added a new dimension of challenge to this journey, looking back, I really would not have had it any other way. It brought out the best in people; the groups positive and supportive attitude was solidified and within our smaller cycling clique's celebrations were shared with joy and any technical issues were resolved supportively, often providing good banter and hilarity for the evenings meal.
I felt at a massive advantage having had Kevin's support and training for the year prior to this experience. I had done masses of interval work on the turbo and regularly cycled outside with a group. I was in good shape and I surprised myself both with my mental and physical strength. I knew immediately after day 1 I was going to reach the end and tick off a bucket list ride, which was an amazing feeling. On reflection a good level of fitness is required to complete LEJOG in 9 days, and yes although I do feel a huge portion of achieving this goal is based on mental strength and the amount of discomfort you are able to endure it would have been so much worse if I had not been in shape. Getting an hour or two more rest than others in the group helped me refuel and organise myself for the next day which also helped with completion and mental outlook. I am so thankful for Kevin's brilliant support of my ride – both through superb training sessions which prepared me exceptionally well but also in meeting me in Glasgow face to face which was an absolute highlight of the whole experience.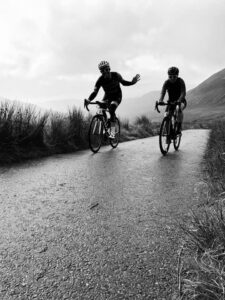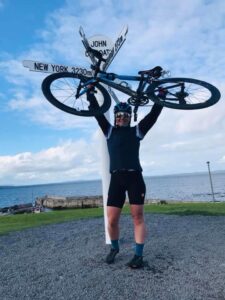 What's Next for Holly?
Completing LEJOG has made me into a much more proficient road cyclist, given me better handling skills in all weathers and all group sizes and has completely changed my perspective of a 'big day out'. In all honesty, even 70 miles would count as a short ride for me now! I do feel this will be useful going into my Ironman Year and fingers crossed completing the Ironman will give me a similar sense of satisfaction and achievement when I finally get there.
If you are preparing for an epic challenge like LEJOG, or simply eager to improve your fitness, get in touch with Blackzone Coaching today.