Winter training can often be seen as the domain of the dedicated few, but with some handy cycling tips for riding in winter, we reckon you will be out there with them in 2021.
Find Your Reason
For those who already have a clear goal to be working towards in 2021, then there is undoubtedly a strong reason to get out and ride in the cold weather. However, if COVID has left your ambitions in smithereens, then you are likely to be in need of discovering why you should even head outside.
Start small: even if it is just telling yourself it's a quick ten-minute spin around the block for fresh air, you are likely to end up cycling for longer once outside and pedalling. Maybe promise yourself a sweet treat when you get back, or even agree to meet someone for a ride together; people are much less likely to quit if it means letting another person down.
No matter how simple it may seem, find the reasons which get you out the door and riding for longer than you would have thought in the cold.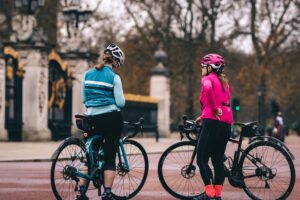 Rev Up
Some cyclists will naturally limber up before a ride, attempting to loosen any stiffness and reduce the risk of injury or discomfort. However, warming up in winter can also feature some light exercise to get your temperature up a little bit, preventing you from feeling quite as cold when first stepping out the door.
This is by no means intended to be anything intense, so do not look to break a sweat and simply focus on getting the body working a little bit harder than a few stretches normally would.
You can choose anything which you enjoy and will have you moving easily enough; from dancing around the kitchen while making a coffee to even 30 seconds skipping rope.
No Cold Feet
During winter your trusty pair of shoes might not necessarily be up to the fight against the elements. Often featuring additional ventilation and breathable materials, cycling shoes can leave your feet cold and wet when riding at this time of year. Additionally, for those cycling early or even after dark, you may even find that moisture turning to ice before long.
To battle the cold and rain, consider using an additional pair of socks if not uncomfortable, as well as shoe covers which can be thermal or waterproof depending on what you need most. Some cyclists even use tin foil to keep their feet warm when training in sub-zero conditions
Layer Up
Suffice to say, the main concern any rider heading out into chilly conditions will fear the most is being cold for the duration of a ride, unable to warm up while amongst the elements. That being said, overestimating the amount or type of clothing required can be an equally unenjoyable experience; think 'boil in the bag.'
One of the ways to combat this is to rely upon layering as your go to tactic, rather than committing to a head to toe approach of thermal or water proof gear, often giving you few options if you start getting too hot.
By using additional layers, such as a short sleeve jersey or gilet, you can easily remove these and store them in a pocket while out riding; rather than suffering until you make it home to get changed.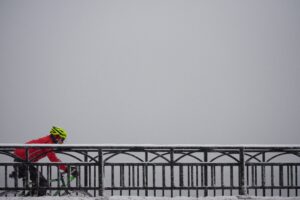 Be Seen
This time of year also increases the importance of visibility, as fewer daylight hours and low winter sun can make it difficult for cyclists to be seen by other road users at times. Though the trend for all black riding gear has grown in recent years, there are plenty of major brands who offer high performance apparel which also provides fluorescent or reflective elements for your safety.
If you are someone who segues their commute into training after work, then also remember to always ride with lights and to have them fully charged before setting out on your rides; no excuses.
Get Changed
During the summer, plenty of cyclists are guilty of lounging around in their kit for longer than need be, sipping espressos at the café or simply making those tan lines as sharp as possible. In the winter months however, sitting in cold & damp kit after a training ride is not a wise move for several reasons.
As many will already know, spending time in sweaty or damp kit can prove perfect for all sorts of bacteria to grow, as well as causing issues such as chafing or cracked skin for those prone to either. Additionally, you should seek to warm up as soon as possible once off the bike and no longer working hard, so change into something suitable and consider a hot drink or soup to get yourself feeling warmer sooner rather than later.
Below Zero
When the temperature truly drops and ice becomes a real problem from day to day, then it has to be considered what can be gained from risking injury by riding on icy roads. A day or two missed is better than suffering a serious crash and placing yourself out of action for the foreseeable.
Nowadays there are several comprehensive online training platforms which can be used in tandem with a turbo trainer, replicating the real world and helping you complete some genuinely tough training. Check out Zwift, RGT Cycling, ROUVY and Sufferfest to name a few.
Off-road riding is another option, with gravel and MTB trails often rideable even when the roads are too slippery to risk.
Of course, you could simply choose to work on some strength training instead, flexibility or perhaps just enjoy a day of rest.
Get in touch with Blackzone Coaching and learn more about how a tailored coaching programme can help you realise your ambitions.